F.A.Q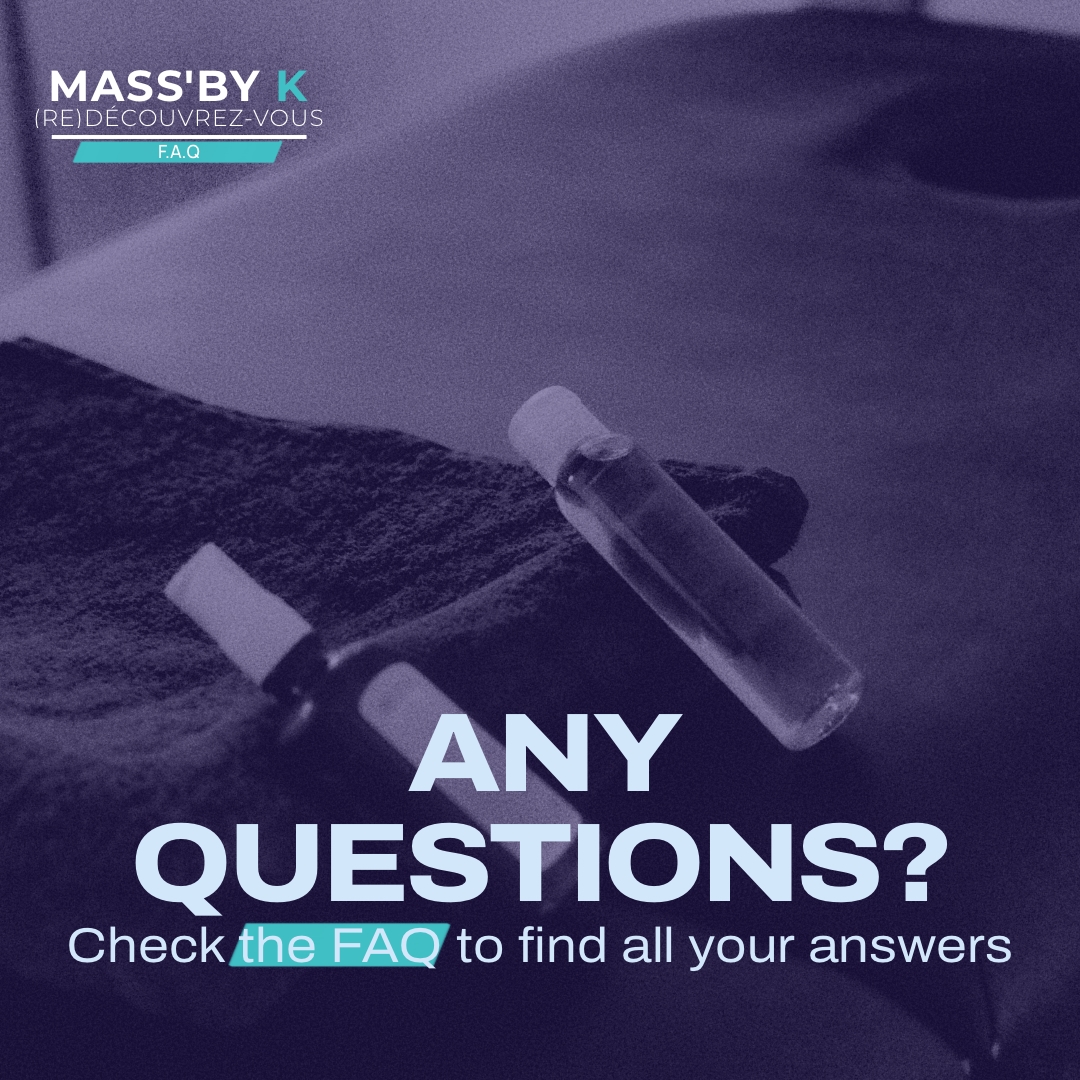 I am gay/bi/heterosexual/other, is that an issue for the massage?
I'm not interested in the sexuality of my clients; the same massage will be provided for everyone without distinction. Just keep in mind that tantric massage involves body-to-body contact between two men.
Is it a problem if I'm trans, non-binary, or in transition?
No problem, everyone is welcome here. For Californian and sports massages, all bodies are welcome. However, due to my training, tantric massages are exclusively reserved for individuals with a penis, regardless of their gender identity.
I am in a situation of disability; does my coming pose a problem?
The residence where I am unfortunately is not entirely compliant with disabled access standards. If you use a wheelchair but are unable to stand at all (even with assistance), unfortunately, I won't be able to accommodate you at this time. For other types of disabilities (blind, deaf, mute, etc.), please feel free to contact me so that we can find the most practical solution and ensure you fully enjoy this experience.
How do massages typically conclude?
I give the person time to come back to reality by leaving them alone in the room. There is no possible 'finishing touch. .
What happens if I have an erection?
Absolutely nothing. This is natural, and it won't interfere with the massage.
I'm afraid that I won't be able to control myself and cum during the massage…
If that happens during the lingam (genital) massage, it's okay, but it shouldn't be the main reason for your visit.
Are we naked during the massages?
For tantric massage, yes. For Californian massage, the person receiving the massage can choose their attire (disposable underwear is available for free), and the Masseur will remain clothed if the 'naturist' option has not been chosen.
I am not comfortable with my body…
The massages are conducted in soft lighting and with utmost respect for the individual. During the tantric massage, there is an initial step of exploring the body at the beginning of the session to avoid immediate nudity, which can be uncomfortable for some.
If I pay more, can I get more?
No. You come for professional massages, and the rates are defined on this website. There is absolutely nothing sexual. Any misconduct will immediately stop the massage*.
I would like to explore massages, but it's expensive!")?>
The prices displayed on this website are not negotiable (except for any temporary promotions)
I would like to have a longer massage
I only offer one-hour or one-and-a-half-hour massages to give you the best experience during the session.
I would like to discover more information about Tantra
I recommend visiting the website of Guillaume from 'Cœurs d'Hommes' (https://coeursdhommes.com), and if possible for you, participating in his workshops.
How does a tantric massage unfold?
The massage will be a sequence of different positions combining touches, sensuality, and gentleness. The goal is truly exploration and letting go, and I prefer not to detail everything.
I don't want to be touched in a specific area, is that possible?
Yes, before each massage, I discuss with you any areas to avoid, any pains you might have, and I adapt the massages accordingly.
I have a fantasy to fulfill, can you help me?
No. You come for professional massages. If you are looking for a sexual service, please do not come, as you will be disappointed.
Is there penetration like in the videos I see on the internet when searching for 'gay tantric massage'? ?
No, neither anal nor oral. My massages are solely sensual, blending gentleness, touch, respect, and slowness. You will discover that you can experience very pleasant sensations without penetration.
What physique is required to be accepted for massages?
There are no criteria based on physique, age, or sexuality. However, for Tantric massage, I reserve the right not to offer it to certain individuals with whom there might not be a connection. Indeed, Tantric massage uses the energy of the masseur to provide the sought-after sense of well-being, and this energy may not always be compatible with that of the person receiving the massage. In such cases, I always accept the client for a Californian massage, but Tantric massage will not be possible.
Is online booking free of charge?
Yes. There are no booking fees, and payment is made on-site in cash or by card (except for the first reservation over 190 euros, which must be paid online)..
What are the reservation deadlines?
You can book up to 15 days in advance. Until 8 pm, you can book (if there is availability) for the next day.
Why can't I book more than two weeks in advance?
Because life is unpredictable, and I don't like canceling appointments. Therefore, I've decided to limit online bookings to a maximum of two weeks. If you really need to book a specific day that is not yet available online, feel free to send me a text, and we can find a solution.
Where do the massages take place?
Everything takes place in my apartment. It is located in the center of Pessac (33600), about ten minutes from Tram B and bus 4 (Pessac center). Free parking is available in the residence. The exact address is sent via an automatic text message the day before the massage.
How are personal data handled?
Only the data requested during the reservation is recorded in a database. They are automatically deleted by the system the day after the appointment. For people with a loyalty card, an encrypted version of the phone number associated with the current grade is recorded to apply the discount automatically at the time of booking.
* if the massage or an option is stopped due to a lack of respect by the masseur or violation of established rules, the cost of the massage and options remains entirely the responsibility of the person receiving the massage